ENERGY
The commercialization of energy together with the transport and distribution, the installation and maintenance of gas pipelines, or projects for the transmission of gas and electricity, are some of the problems and opportunities facing energy companies and for which they may require an advisory service legal. This sector is also affected by extensive regulation applicable to energy activities, which require obtaining administrative authorizations.
Our civil / commercial department and our administrative law department are the ones that participate most in operations and projects of energy companies. Other labor needs may also arise due to workforce needs or insurance in case of explosions or accidents of any nature. For all this we have a team diversified by subjects to meet all the needs of companies dedicated to the energy sector:
Our experience in this field has been diverse. We have participated in large projects of construction and development of facilities advising energy companies, and also in judicial proceedings of large amounts defending the rights consumers and users of individuals and communities of owners against abuses of companies in the sector.
A multidisciplinary team at the service of your needs.
WE HELP YOU FROM THE CIVIL, COMMERCIAL AND TAX DEPARTMENT
Advice on the construction and maintenance of facilities and energy plants.
Drafting of contracts and advice in the negotiation with customers, partners and suppliers for the commercialization of energy (transport contracts, concession, supply, distribution, etc.).
Advice on corporate matters and secretariat of the board of directors.
Drafting of minutes, attendance at general meetings.
Competition Law
Advice on consumers and users.
Advice on mergers, divisions and acquisitions of companies and dealers, joint venture agreements and company restructuring.
Advice on the fiscal impact of corporate operations and transfer prices.
Claim to suppliers.
Product Responsibility
Contests of creditors.
Advice on data protection, registration of files, security documents, consumer complaints, etc.
WE HELP YOU WITH JUDICIAL PROBLEMS
Drafting of claims, answering claims, complaints, appeals and other legal briefs for the defense of our clients before the courts of justice and arbitration courts.
Assistance in proceedings before the courts of first instance.
Assistance in proceedings before the courts of contentious-administrative.
Assistance in proceedings before labor courts.
Assistance in proceedings before the commercial courts.
Assistance in proceedings before the courts of instruction and criminal matters.
WE HELP YOU FROM THE ADMINISTRATIVE DEPARTMENT
Advice on obtaining administrative licenses and sector authorizations.
Environmental advice.
Advice on disciplinary procedures against the administration.
Advice on obtaining public subsidies.
Defense before the administration before claims by administrative route and before the courts of the administrative litigation.
WE HELP YOU FROM THE INSURANCE DEPARTMENT
Compensation claim against insurers derived from claims, such as explosions, fires, floods, accidents of any nature, etc.
Compensation claim against insurers derived from defective products.
WE HELP YOU FROM THE LABOR DEPARTMENT
Advice on relations between company and employees. Hiring, dismissals, modification of working conditions, geographical or functional mobility, working time, disciplinary proceedings, salary system, social benefits, workers' representatives, etc.
Company restructuring, including negotiations in case of collective dismissals or collective employment suspensions (ERE and ERTES), as well as dismissals for duplicate positions.
Collective negotiation. Advice on negotiations of collective agreements or changes in working conditions.
Assistance in legal proceedings in all instances.
Assistance to conciliations before official bodies.
Assistance in administrative records.
Assistance before the Labor and Social Security Inspection.
Prevention of occupational hazards.
Advice on social security.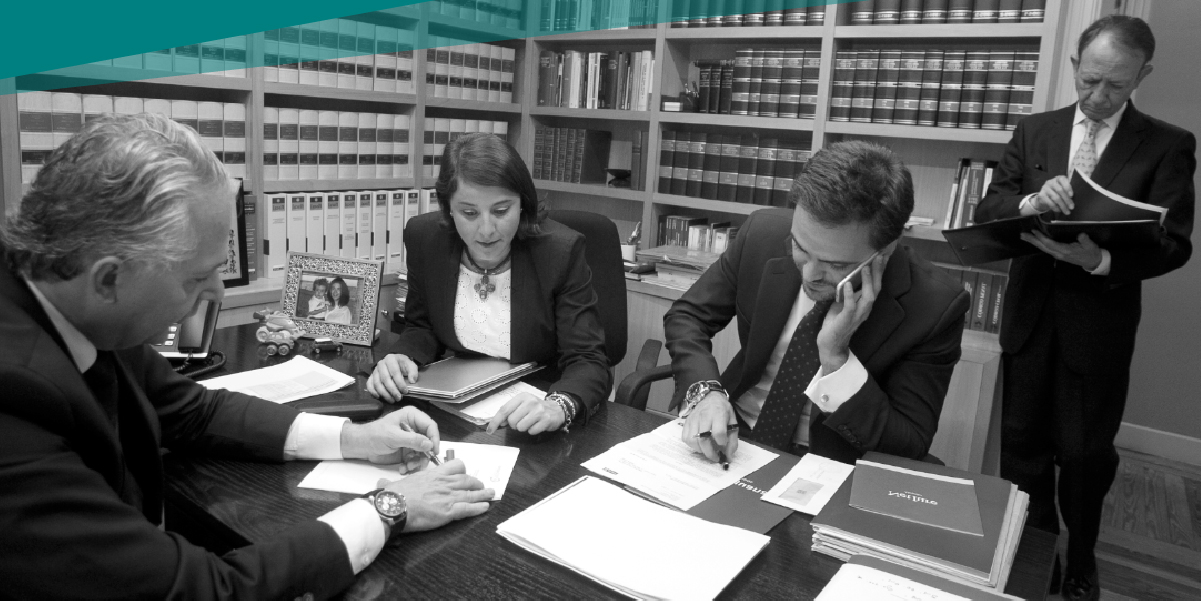 Un equipo muy competente, profesional y cercano. He contado con ellos en bastantes ocasiones por temas diferentes y siempre han resuelto mucho mejor de lo esperado y haciendo el proceso lo más agradable posible.
Gran despacho y grandes profesionales, el excelente trato ha hecho que se conviertan en mis abogados de confianza. No dudare en volver a recurrir a ellos, 100% recomendable!
Te ofrecemos un asesoramiento integral a tu problema jurídico. Somos un despacho multidisciplinar con abogados expertos en cada materia.
ÚLTIMAS PUBLICACIONES SOBRE DERECHO CONCURSAL